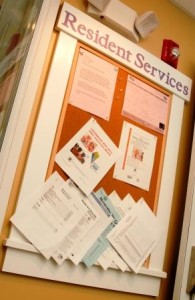 In all of our developments, our Resident Services program coordinates resources to help residents access programs and services that build assets and increase financial self-sufficiency.
One of our newest efforts is Back on Track, an eviction prevention program designed to help existing residents who are experiencing financial hardships that threaten their housing.  The program's goal is to help the resident remain in housing while maintaining the strength of our property portfolio.  A natural outgrowth of this program is the Resident Resource Guide which is listed in the side menu bar.  The Resource Guide is available to anyone and contains information and links to a wide variety of useful programs and organizations.
Activities at the Meadows senior development
At the Meadows senior living development, we provide service coordination and health and wellness activities to improve quality of life for seniors aging in place.  A few examples of our Resident Services activities are:
Weekday lunches provided by Senior Services where seniors can sign up for a tasty lunch in the Community Room
Community garden with individual plots available to residents on a first-come, first-serve basis each planting season
URI master gardeners series during the summer months in concert with local community gardens. Residents learn about planting, composting, and much more
Annual holiday party each December where residents and friends gather to celebrate the holiday season
On-site hair care provided by Phylis Gamache of Hair and Nail Services
Activities in Constitution Hill and Heritage Place family developments
Annual events such as the Dr. Martin Luther King Jr. Day Celebration in January, Neighborhood Celebration in June, and Back to School Bash in August
A backpack and school supply giveaway in August at the annual Back to School Bash. Backpacks and school supplies are distributed to neighborhood families preparing for the school year
A Holiday Party each December where families have the opportunity to meet and interact with Santa. Each year he brings goodies to the good girls and boys of the neighborhood
Pot luck dinners and block parties in June and August. NWBRV lights up the grill and invites neighbors to bring a dish to share. Each year, a DJ helps neighbors dance the night away
Community improvement activities such as clean ups, art projects, and planting days including an annual Costa Park Clean Up each spring, Earth Day activities including "tire fishing" in the Blackstone River where residents pull abandoned tires from the River, and fence art where residents paint special wooden cut outs that are displayed in the Community Orchard and Garden
Safety initiatives such as the resident Block Watch program and Neighborhood Partnership Team where residents and City officials walk around the neighborhood together identifying and solving problems.
In past years, NWBRV has hosted a FarmFresh RI Farmers Market once a week in the Heritage Place parking lot during the summer and fall months. The markets accept WIC, SNAP, and Senior Coupons and offer neighbors fresh, locally grown produce close to home
Activities at the ClockTower family development
Current activities are offered in partnership with the Jesse M. Smith Library.  Seasonal activities include the Burrillville Farmers Market which occurs weekly on Saturdays from 9 am to 12:30 pm  starting in late May and running through October.
 Activities at the Marshfield Commons family development
Pot luck dinners and block parties
Community improvement activities such as clean ups, art projects, and planting days